Best Air Purifier for Delhi Smog and Pollution
Posted On
As the pollution levels in Delhi are soaring up at an alarmingly fast pace, it is really important that you take the necessary care about your health. The air purifiers are the best companion you can have in this poor environmental situation around.
They offer freshness to the air quality in your household, making your house a safer place for your family and children. The air purifiers work efficiently in providing that security to the home for safer inhalation. Thus, for safer air quality, these are a list of purifiers, you can opt from as they are reliable and convenient:
1. Great for Medium-Sized rooms – Philips AC1215/20 Air purifier
Philips is a trusted brand offering a variety of products in the country. The Vitalshield air products easily purify the air quality within your standard-sized room in 12 minutes! Isn't it amazing?
While you are literally congesting your lungs with dirt and dust, this air purifier has the capability to cleanse particles of size smaller than PM2.5 effectively. As PM2.5 is the standard micron particle available within your house, this intelligent device with its air quality sensing characteristics removes 99.95% particles of size as small as 0.2 and 0.3 microns.
If you are worried about all the dust borne allergy you are facing, opt for this amazing product, driving away all allergy causing germs, dust and viruses out of your house. It has a four-stage filtration process making life easier in the air contaminated city.
The technologically advanced night sensing mode prepares your bedroom air quality to have a healthy and hearty sleep. The colour panel allows you to know the grade of air in which you are surviving. Thus, for a disease-free lung ahead, they come with the following specifications:
Thick NanoProtect HEPA design for improved purification and safety from air-borne disease.
Two years of absolute guarantee
Turbo 1,2,3 fans for faster cleansing.
Four stage filtration apparatus to clean 800 times smaller particles .
Indicator to show as to when the filter needs a replacement for efficient performance.
Pros:
Colour panel for quality indication.
Great and efficient cleaning.
Removes formaldehyde and TVOC
Bacteria filtration techniques.
Low battery usage.
Cons:
Can make sounds up to 33bD
Ideally suited for small to medium, sized rooms.
2. Best Value for Money – Mi Air Purifier 3 with True HEPA Filter   10000
If you really want to breathe green and fresh in the world succumbing to emergency level pollution, this MI purifier is your best home companion. They come with this HEPA technology with the capacity to completely clean your room from unwanted particles up to size 0.2 microns. The panel displays the current room air quality you are dwelling in with your family!
To give your child that healthy and safe life, the MI purifier filters out 99.97% impurities from the room. The panel displays the particle size, saturation level, humidity of the room in which it is placed. Besides, the amazing Bluetooth connectivity feature included in this variety makes it compatible to function with Alexa or Google Assistant.
It has a three-step filtration technique, soaking up air 360 degrees around it and ensuring thorough cleaning. It also boasts of an effectively high CADR of 380-metre cube per hour. The exceedingly innovative design makes the airflow in your room consistent, and the easy app control feature makes it worthy of your room!
OLED display.
Bluetooth connectivity feature for an enhanced user-friendly approach.
360-degree purification in the room.
Uses just 38 watts consuming less power than expected.
Gives a 484 square feet coverage, where it is placed.
Pros:
It operates on an absolute silent mode.
Amazon choice product among air purifiers making it the best in the lot.
Has modern controlling feature from your phone.
Highly efficient cleaning power.
Easy DIY filter changes us possible.
Cons:
Gives only one year guarantee.
Bit pricier than Philips.
3. Great air safety – Coway Sleek Pro AP-1009 Air Purifier
This Korean company is all set to rejuvenate your large rooms with a breath of fresh air! This fabulous product claims to trap all PM2.5 particles making the air inside your house unhealthy for inhalation. Coway sleek promises to give you that three-stage filtration process which completely eradicates all that making your lungs diseased.
You'll get the best customer support from this company, be it any damage or inconvenience with your purifier. Thus, for hassle free usage, this is definitely the right product of choice!
To give your child that healthy space in your house, they have air dust sensing technology with automatic control of airflow in your room. The four lights indicate the quality of air inside, and you can operate the at four levels with just a simple touch!
The three filtrations involved in the operation of this device are the Pre Filter designed to take way larger particles and dust, the Patented Urethane Carbon Filter fishing out all the bad odours around and last but not the least, the HEPA with multi-layer allowing only particle-free air to pass through them. Thus, for that healthy life ahead, they feature:
Filter replacement indication for efficient usage.
One touch fan control.
Mood lamps attached to the panels.
Air quality indicators for assessing the right AQI it is catering to.
No ionizer, hence no ozone production.
Pros:
Longest filter operation with 8500 per filters.
Efficiently maximises airflow in the room.
Can be used for large spaces in your house.
Capable of bringing a fresh and clean odour to your household.
Absolute silent functioning.
Comes with an ultimate three years guarantee.
Cons:
Very heavy on the budget.
Not receptive to 0.3 micron particles in air.
4. Promising brand – Honeywell HAC25M1201W   
Trying to drive away all the air pollutants causing problems to your lungs? Then the A5 air purifier is just the right brand you should opt. It rinses away all toxic impurities present in your house ranging from harmful gases, odours, VOCs in your room accompanied with particulate matter, formaldehyde and another microscopic pollutant. You simply can have that healthy family life as this product does not give away ozone or other pollutants as a by-product.
The efficiency and the coverage area offered by this purifier is supremely versatile, and you can easily place them in your bedrooms or spaces up to 30 square metres. The CADR offered by this apparatus is 250 metre cube per hour and is designed to remove 99% impurities residing with you. The three-layered filtration technique is curated to meet the extreme levels of pollutions pouring into the cities.
The quality of HEPA is improved and made to last long with a washable pre-filter allowing to get rid off all large particles. The 3d airflow technology, child lock supervision is just the special additions to this product. The 3d flowing technique of air maintained by this product makes air circulation in the room optimised. Thus, you get:
Three filters cleaning the air.
46 watt power usage.
Child lock facilities are keeping it safe from toddlers!
Pros:
Optimised circulation.
Energy efficient.
Cleans room within 10 minutes.
Provides ultimate hygiene in your space.
Lower cost of running the product.
Cons:
Not absolutely silent although sounds are low.
Not efficiently operational in big rooms.
5. Best Runner Up – Philips AC2887/20
In case you are searching for that product fitting the large room requirement, this Philips product is apt for the purpose. From large drawing areas to your master bedrooms, they effectively draw away all the impurities present in there!
It has a pre-designed Area Sense technology which is capable of sensing all the impurities ranging smaller than PM2.5 (including pollens, allergens, toxic gases) and gears up the filtering process up as per necessity.
The Allergen mode is a part of Area Sense which will rejuvenate air, as you dust your pillows or clean your room with a vacuum cleaner. Adding to it the bacteria and virus mode, which will effectively keep your family healthy from all the cough and cold originating from germs and viruses.
The aerodynamic design of this product makes the flow of air through the rooms highly efficient. The CADR provided by this range of product is 334 metre cube per hour. This powerful purifier design is a perfect mate for your rooms and ensures that you are freed from all those allergies. To add to this, they feature:
Three-layer ultra protection of your room.
Vitashield IPS technology giving the purest form of air to breathe.
Light Aerodynamic structure for a smart airflow.
Pros:
Perfect for medium to large rooms.
Has a variety of modes capturing all the pollutants in the air.
Smart control of the light panels.
Help you get rid of the unwanted odour.
Changes mode of operation as per requirement boosting the air quality.
Cons:
Makes that bit noisy.
Just two years warranty.
6. Cheapest Among all – AMERICAN MICRONIC
 This efficient air purifier is highly effective in filtering out 99.97 particles from the air contaminating your environment. This product will effectively remove all the unwanted particles with the three-layer purification technique involved in the device design.
The Pre-filter facility fishes out oil vapours, toxic gases, formaldehyde and other particulate matters with utmost accuracy. They have the feature of 1-2-4-8 hours timer, which works with three-speed air flow and has also sleep mode options. It effectively covers 150 to 200 square meter space with a CADR of 220 cubic meters per hour.
The air purifier drives away all the bad smell from the room and can give that freshness that you dream of in your living space. It has an ionizer button which can be switched on and off as per necessity. It works like magic on any bad odour circulating in your rooms.
The Pre-filter has the design of trapping all the large particles which makes your lungs happy! The ioniser is designed is curated to remove suspended particles creating negatively charged ions. The purifier is hence a compact model giving all the desired facilities that you can claim of.
Hence, this purifier boasts of:
Three-layer purification technique.
Adjustable fan control.
Ionizer removing suspended materials.
Pros:
Cheapest in the market.
Magically gives a fresh odour to your room.
Work on medium-sized spaces.
Low power usage.
Modes and timers are available for easy functionality.
Cons:
Ionizer creates pollution, promoting ozone.
Guarantee for a year is provided.
7.   Best Modern Technology – Dyson Pure Cool Link Tower   36000
The most intelligent device to cleans off the pollutants in the air. It has the power to remove all those impurities crouching in to your rooms automatically. The Air Multiplier facility is the appropriate technology to enhance the air circulation within your room. It features Sealed 360-degree glass HEPA which spontaneously attracts all those ultra germs and particles hovering around in the rooms.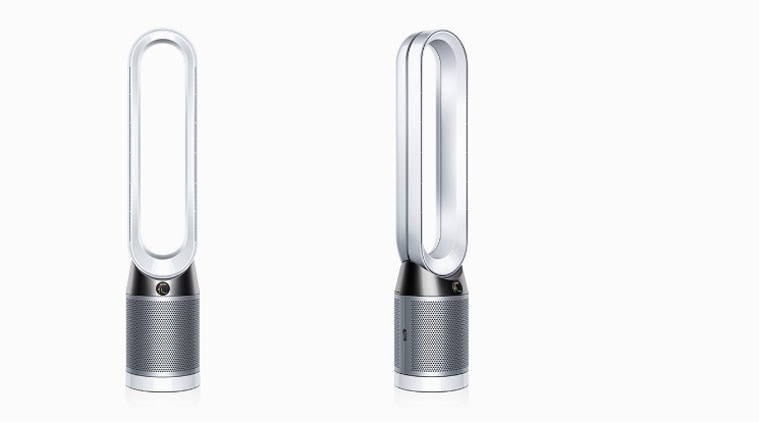 For a safer abode for your kids, this device has Dyson app provides you with the privilege to get the reports of present AQI and you can easily operate them from anywhere and everywhere. What more!? It boasts of sleep timers, auto modes, sleep modes giving ease of access. It has the capability of purifying and trapping particles of 0.1 microns making your house the safest abode on the planet. Besides, it keeps all the pollutants trapped and does not allow them to escape back into your room. Thus, this is definitely the product of choice with diverse features as follows:
Oscillation facility helps in proper circulation of air.
The app-based functioning enables you to monitor air quality when you are out.
It filters out 99.99% germs and impurities, which is the safest scale.
Certified product for asthma patients and is, of course, allergy-friendly.
Functions in a completely silent mode.
Pros:
Best purification available
Small footprints and claims of 360-degree air intake
Silent mode of operation.
Free installation is assured by the company.
Cons:
Very highly-priced.
No warranty is provided by the seller.
8.   Trusted Indian Brand – KENT Aura Room Air Purifier
This air purifier by Kent is just the product that you would want for your house. It is moderately priced and features all the qualities you will search for in an air purifier. The High-Efficiency Particulate Arrestant functions dynamically cleaning of all the unwanted particles in the room. The carbon filters work efficiently removing the unwanted carbon contents in the room making it the right choice if you have a newborn or a toddler. Foe=r easy breathing and prevention of lung disease, this is a choice that you really need to make at earliest!
These purifiers generally come in a white background with a variety of designs. It has easy child lock facilities, and the high-quality HEPA removes any traces of sulphur, nitrogen and carbon from the space. It is curated keeping in mind the ease of users. Besides, the inbuilt ionizers keep your room absolutely fresh and clean with their efficient technology. Kent keeps up to the expectation just like their water purifier and is a trusted brand. The air purifier offered by Kent is indeed a mid-priced option with a versatile privilege. Thus, a purifier of Kent will provide you with:
HEPA cleaning all that is unwanted in the air in your house.
Child lock to keep children's safety.
Ionizer for greater air quality in the house.
Variety of design as per your choice.
Pros:
Great air quality.
Cleans and traps 99% of PM2.5 category pollutants.
Removes cigarette smoke, formaldehyde and other impurities.
Has a three-layer filter process.
Cons:
Produces ozone which is harmful to the environment.
The company gives just one year warranty.
9.   Best Under Rs7000 – Moonbow by Hindware Moonbow AP-A8400UIN 
This is the perfect mid-priced option that you will find in the market. This purifier provides a five-stage purification process keeping you free from all possible impurities circling around in the air. Thus, if you are in search for that perfect safety for your family, it is the choice that you need to make.  This air purifier has the perfect design to meet the deadliest pollution level that Delhi is facing. This purifier has the capacity to function with small power usage making your electrical consumption much lower. Hence, you get a safer household at a cheaper cost.
This product filters out carbon, dust particles, oil vapours, smoke, sulphur and all that which has the potential to harm your health. This can operate efficiently in a 400 square feet place, making it clean for breathing. The AQI in your room will automatically improve as you install this device. The CADR is 125 cubic metre per hour which is really the best you can get in this price range. The advanced technology offered by this is actually worth every penny you spend. So, what features can you expect?
55-watt power usage.
UV lamp for finer filtration.
Pre-filter trapping larger particles.
True HEPA filter for getting rid of particles smaller than PM2.5.
Activated carbon filter for all those polluting gases.
Refreshing energizers rejuvenating your rooms.
Pros:
Refreshing aura to the room.
Effective cleaning.
Moderate pricing.
Five filtering technology.
Advanced device for a safer household.
Cons:
One year warranty.
Makes a tad bit noisy.
 10. Best Overall – Dyson Pure Cool Air Purifier
Dyson products feature advanced technology, processing the air in your house just the way you would want. The improved technologies used by this brand is indeed appealing who wants to get a product which would work efficiently for a long time. So, for making your house a clean abode, Dyson purifier is often a choice to make. They are designed to capture ultrafine pollutants from the air and is able to trap 99.95 percent pollutants occupying the air space in a room. The purifier not only filters ait it also makes the room cooler in the summers with its cooling feature. Besides, the draught free diffused mode allows side ventilation allowing air to escape sideways.
It automatically senses any impurities and starts functioning as per the need of the hour be! The Air Multiplier facility provides 360 litres of fresh air in your room per second. Besides, it is also Wifi enabled and can be operated from your smartphone easily. Practically suitable for a small to medium-sized rooms, they are highly energy efficient, making you spend lesser price on your electricity bill. The Dyson model can hence be claimed to feature the following:
An Air Multiplier is providing fresh air.
Night mode for soft operation at night.
Intelligent reporting system to your smartphones.
Smart air quality detection facility and performing according to it.
360-degree oscillation for proper air circulation in the room.
Pros:
Carbon filters reducing carbon footprint.
Displaying and sensing real-time air quality.
Great sterilisation of air.
Powerful airflow across the room.
Fast and easy filter changing.
Cons:
Highly-priced.
Lesser airflow than other Dyson models.
Verdict
You can't survive without breathing. The aged and the young in your house must be protected from the harmful effects of air pollution in the city. For that clean ambience in your household, you need to choose the appropriate one among them. As Delhi rises in the pollution level ranking globally, it is a mandatory product in your household, more mandatory than an air conditioner. Reduce your medical expenses as you opt for the ideal air purifier for your apartment. They come in various ranges, chose one of your choices and make life healthy and happy!
Frequently Asked Questions
                   I. How much space does purify cover?
The space occupied by purifiers depends from product to product. The small purifiers take up as much as 700 square feet in small rooms and sizes. The portable purifiers functions for the same space. The large purifiers cover entire houses and office spaces and functions through vents.
                II. Where should a purifier be placed in the house?
Generally, purifiers are designed to function for a single room. Hence, it is advisable that you place them in a room where you and your family spend the majority of the time. The bedrooms and drawing spaces are areas where it should be installed for safer air for breathing.
             III. What particles can be removed by purifiers?
Different purifiers are designed to meet your various needs. Most of the modern purifiers clean up all impurities including oil vapours, formaldehyde and particles up to 0.3 microns. Besides, they are also designed to remove bad odours disturbing the aura of the rooms.
            IV. Does purifier indicate air quality in the room?
The primary function of the purifier is to sense the air quality and filter out impurities as per requirement. Most of the purifiers feature the facility of panels mentioning the condition of air in your room and boosting up cleaning process accordingly.
               V. Does air purifier cause pollution?
It actually depends on the product that you are purchasing for your house. Their primary purpose is to deter pollution; however, the ones adjusted with ionizers produce ozone. Hence, while most of them doesn't, you actually need to choose wisely for an ozone free one!
            VI. Does they consume large amounts of energy?
The electricity consumed by the purifiers is not like air conditioners! They consume very less energy, and most of them are energy efficient. All you need is to check on the watts used before purchasing as they are different for the various products available.
         VII. Do they make noise?
The older variety of purifiers would actually make noises as they operate. However, newer technologies produce whisper-like sounds to no sounds at all. The modern designs give a peaceful night sleep as they operate in absolute silence. Check the reviews on the products before you make a purchase.